---
REQUEST A QUOTE
Stop dealing with project downtime, and instead keep your crews happy and effective with backyard utility machines that get the job done, time and time again. When you partner with Skylift, you're able to keep your crews operating effectively and efficiently.
We power the utility easement machine industry with several different models of utility vehicles that are designed specifically for accessing tight alleyways, gates, and rear-property utility applications. Available in a variety of sizes, shapes, and configurations, our machines are a top choice among crews in the field.
Our Process
Step 1:
Build Your Machine Specs
After filling out the form to request a quote, we offer consultative support to determine what sort of machine you need. We start by sending the standard pricing sheet for the requested machine with the options sheet, which includes all the enhancements and customizations you can choose from. This is based on the crew needs, applications, environments, budget, etc.
Step 2:
Get a Quote
Once you and our team have determined what machine and enhancements are needed, we will put together an official quote for your custom machine.
Step 3:
Get Your Machine Onsite
Our just-in-time delivery services keep your crews up and running to minimize downtime.
With Skylift as your partner, you can expect to find the right high-quality backyard utility machine that is built to last. Please fill out the form to request a quote.
What Our Customers Are Saying
"Hands-down one of the best companies I've ever worked with! From sales, service, and their parts department, they leave no questions unanswered. Not only did we receive an excellent machine, but we also worked with a company whose employees truly care about the product and put the customers' needs first! Thank you Skylift for our Patriot 50 and all that you do!"
Zach Collins, Line Superintendent, Firelands Electric Cooperative
"We have used Skylift equipment in my area since 2010. We have had tremendous reliability with their equipment! It starts with the quality of the product and design. We have had a very good response from the end-users in the field as far as the useability and reliability of the Skylift product. And on the maintenance side of the business, downtime is minimal and easy to work on! Most of all the customer service and tech support we receive is top-notch!"
Thomas Sinon, Entergy Fleet Supervisor, New Orleans
Work With the Leading Provider of Utility Easement Equipment
USA
Designed, built and sourced in the USA
2,000+
2,000 machines in the field today and growing
80+
80+ years of combined backyard easement equipment experience
Raising The Standard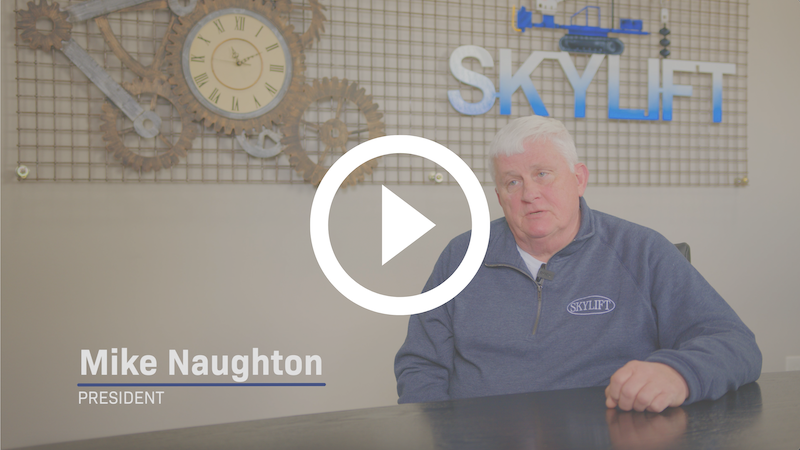 At Skylift, we know that you want your crews to be fully operational, with the right equipment at the right time for your backyard utility projects. In order to accomplish this, you need a partner that understands the challenges of working in tight spaces and has the right mix of dependable, cost-effective equipment and expertise to keep your crews happy and productive. This is why we build industry-leading solutions for specialty backyard utility projects. Each Skylift team member has an average of 15 years of technical expertise and experience solving the problems you're facing.