Skylift is committed to manufacturing the highest quality easement machines on the market, in addition to operating sustainably. We recently invested in a Trumpf TruLaser 1040 laser cutting machine for our Lorain, Ohio, production facility.
Since beginning operation of the laser cutting machine in January 2022, we've been able to improve precision, efficiency and capacity, resulting in higher-quality easement machines that reach the market sooner.
In addition to its operational benefits, the TruLaser machine also improves Skylift easement machines and, in turn, your business.
Ease of Use
The Trumpf TruLaser 1040 uses the latest available technology to offer added precision, increased efficiency and a clean work environment. The two-story laser cutting machine's four-meter bed and 6,000-watt laser provide the capability to cut materials up to 1" thick.
While the cutting speed is dependent on the type and thickness of the material being used, it ranges from 600" per minute to 1,500" per minute.
The machine's software is intuitive and user-friendly, often requiring just a few button pushes to operate. Skylift staff attended a week-long operator training course at the Trumpf facility in Farmington, Conn., plus one week of virtual programmer training.
Enhanced Precision
Compared to Skylift's previous plasma cutting table, the TruLaser offers the following benefits in terms of accuracy:
Allows for 4,000ths of an inch factory tolerances
Laser has a burn point that is 10 times thinner, allowing for cleaner, more precise cuts
Ensures cuts are both highly accurate and repeatable
Generates notches and tabs on pieces to ensure a better fit, faster and easier assembly and stronger welds due to an increase in the weld surface area

Increased Efficiency
The TruLaser machine has created a cleaner, quieter work environment at Skylift. Its high-end, built-in dust extraction system eliminates particulates in the air from the cutting process, improving safety. The machine also uses less energy than our former plasma cutting system.
The laser cutting system offers the following benefits in terms of added efficiency:
The ability to cut more parts per plate
Sheets can be loaded and unloaded while the machine is in operation, resulting in a 50% time savings
Cutting speed is twice that of the former plasma cutting table
Eliminates a bottleneck in the manufacturing process
Allows Skylift to double its production capacity
Eliminates nearly all post-process work (cleaning, deburring, taking out heavy slag and checking holes)
The ability to print part numbers directly onto the parts results in easier assembly, inventory and part replacement
Benefits to Skylift Customers
One key aspect of Skylift's commitment to continuous improvement is developing ways to better serve our customers and keep your crews running.
Our new TruLaser cutting system offers several benefits to the end users of our specialty easement machines, including:
Increased capacity that results in shorter customer wait times for machines
Stronger welds between parts increase product durability
More precise alignment of parts that results in less wear and tear on machines
If you have questions about how our Trumpf TruLaser 1040 contributes to the manufacture of a specific Skylift easement machine or want to discuss your next utility project, contact us today.
Already have a machine in mind for your next project? Reach out to request a quote.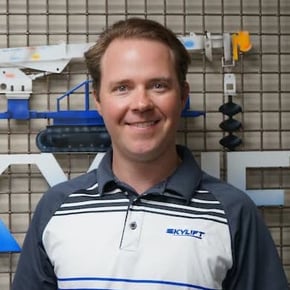 Andrew Jarmoszuk
Andrew Jarmoszuk joined Skylift in 2010 with 16 years of experience in heavy machinery manufacturing. In his current role, which he has held since 2013, he coordinates with distributors, salesmen and end users in all stages of the sales process and thereafter, in addition to overseeing all marketing projects.