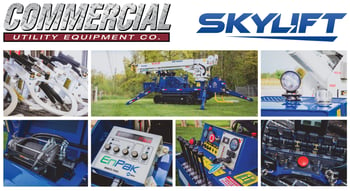 DELTA, BC – June 26, 2023 – The Commercial Group of Companies, comprising Commercial Truck Equipment, Commercial Utility Equipment, and Commercial Emergency Equipment, announced today that they have signed an agreement with Lorain, OH based Skylift Inc. which makes The Commercial Group the first and only exclusive dealer for Skylift specialty easement machines across all Canadian Provinces and Territories.
"For years, Commercial has been demonstrating its dominance as the clear frontrunner in providing equipment and vehicles to solve the most challenging utility access, service, repair, and installation projects. Our new partnership with Skylift gives us the ability to further expand our industry-leading product lineup, making Skylift's cost-effective, innovative, and reliable backyard and off-road easement equipment available to Canadian customers," said Steve Chapman, Director of Operations for Commercial Utility Equipment.
Skylift Inc. is based out of a 50,000 sq. ft. Lorain, OH facility, and utilizes in-house laser, CNC, and milling machines, to produce best-in-class insulated specialty easement equipment. Utilities and contractors rely on Skylift equipment for utility pole and transformer installations, traffic signal maintenance, tree trimming, and many other applications. In addition to internal combustion material handlers, aerial devices, and digger derricks, Skylift engineers and manufactures award-winning battery/diesel powered equipment, which is available on its mini-derrick and mini-arborist platforms. All hybrid units offer full power and functionality under battery power.
"Skylift looks to partner with companies with similar operating philosophies. After meeting with the Commercial team, we knew they were the clear choice to represent Skylift in the Canadian market. The combination of Skylift equipment with Commercial's nationwide branch network and exceptional sales and support capabilities will benefit all Canadian electricity consumers," said Mike Naughton, President of Skylift, Inc. "We look forward to Commercial's customers seeing for themselves that our quality, ease of use, reliability, and parts support define us in the market," he continued.
Effective immediately, Commercial Utility Equipment will be the primary sales, service, support, and delivery partner for the complete lineup of specialty easement machines and accessories from Skylift across Canada. Skylift's Digger Derricks, Aerial Devices, Material Handlers, and Mobile Power Supply units are now available for rental, lease, or sale with complete customization available for purchased equipment. Contact Commercial Utility Equipment or visit ComUtility.ca for additional product information or to schedule a product demonstration.
About Commercial Utility Equipment – Providing Expert Utility Equipment Solutions across Canada. Part of the Commercial Group of Companies, Commercial Utility Equipment is Canada's largest supplier of utility equipment. Serving customers for over 75 years from 10 branches across Canada, they sell and support the industry's top products. Commercial Utility is the leading source for aerial devices, digger derricks, utility trailers, easement machines, Hybrid and EV utility solutions, as well as line pullers & tensioners.
About Skylift Inc.
Skylift is the leading provider of easement specialty equipment for utility pole and transformer installations, traffic signal maintenance, tree trimming, and other applications. Skylift's tough, high-quality, long-life vehicles are designed specifically for accessing tight alleyways, gates, and rear property utility applications. Powering the industry with several different models of utility vehicles available in a variety of sizes, shapes, and configurations, Skylift Inc. has been leading the way in the electric utility equipment industry by providing machines of the highest quality utilizing state-of-the-art manufacturing processes for over 20 years. Their Lorain, Ohio production facility possesses a fully capable machine, fabrication, paint, and assembly shop all under one roof, enabling an in-house engineering team to make quick changes that benefit the end user.
Contact Information
Sales:
Steve Chapman – Director of Operations, Commercial Utility Equipment. SChapman@comtruck.ca, 604-526-6126
Nick Gordon – Director of Sales and Marketing, Skylift Inc. NGordon@skyliftus.com, (440) 960-2100
Media:
Rod Leland – Marketing Manager, Commercial Group. RLeland@comtruck.ca, 604-526-6126