When it comes to small municipalities, high-quality easement specialty equipment is vital for utility pole and transformer installations, traffic signal maintenance, tree trimming, and many other applications. Skylift offers the most durable, long-lasting backyard easement machines on the market, designed specifically for accessing tight alleyways, gates, and rear property utility applications.
From small municipalities to large cities, our machines are long-lasting, easy to use, and simple to maintain — resulting in greater efficiency and reduced downtime for crews in the field.
Small Municipalities are Fully Supported
Skylift's cost-effective machines are a top choice among crews in the field and are built to last longer in rugged environments. Our team of experts works with small municipalities to understand their unique needs and direct them to the ideal machines. We treat all of our customers equally — from our distributors and large municipalities to small and rural communities — so you can rest assured that your small municipality is well-supported.
Skylift easement machines feature a lifetime structural warranty, in addition to being easy to maintain and universal to service, should repairs be needed.
Our technical service line — which carries a 99 percent satisfaction rating — is available anytime for troubleshooting in the field. You'll speak directly with a tenured technical service expert, who can troubleshoot issues based on descriptions or photos. In addition, schematics can be sent via email to go over during a field call.
Since Skylift machines feature a proven hydraulic system operation, repairs can be performed by any service center or mechanic with standard industry knowledge. This allows for a faster, easier repair compared to easement machines that run on an electric over hydraulic system, which often requires electrical equipment be delivered to the site and results in costlier and more time-consuming repairs.
In addition, Skylift's parts department ensures the right solution is always available, even for older machines that are no longer in production.
Ideal Machines for Small Municipalities
Skylift offers a diverse range of easement machines that are specifically made in response to gaps in the market. Municipalities can rely on Skylift to fulfill specific market needs with fairly priced, state-of-the-art equipment.
The following machines are popular among small municipalities:
ML 53: The City of Oberlin, Ohio, uses Skylift's ML 53 to fulfill its need for an articulating tool, rather than going straight down for the backyards in which crews work. The municipality had a specific need for working around trees, as opposed to digging post holes. Its crews also use the machine for line clearing and replacing transformers. Introduced in 2016, the ML 53 fulfilled industry needs and met new regulations that required any digger derrick machine being used to set a utility pole to be accompanied by another piece of equipment with an elevated bucket. The ML 53 features an articulated telescopic boom and bucket, with a working height of 53 feet and the ability to fit in tight backyard spaces less than 36 inches wide.
MD 4000: This mini derrick is versatile enough to dig holes and set poles, while its bucket can be used to access residents' backyards, repair stoplights, and hang holiday lights or seasonal banners. Its smaller, lighter frame minimizes damage to turf, so you don't need to worry about it tearing up the grounds at City Hall like a large truck would. The MD 4000 (wheeled or tracked) can travel through standard 36-inch gates and features a 4,000-lb. lift capacity and a working height that reaches between 39 to 42 feet.
Patriot 40/50: This off-road digger derrick machine is ideal for rural areas, such as Jackson Hole, Wyo., where municipalities run their own power lines, but also need access to remote areas. Released in 2011, the Patriot was developed to get workers to job sites typical utility trucks are unable to reach. The machine's size allows it to be transported with ease, where other machines would need to be transported with a tractor and lowboy trailer from jobsite to jobsite — which results in overall enhanced convenience and cost savings.
To learn more about how Skylift's line of easement specialty equipment can benefit your small municipality, contact our experts today.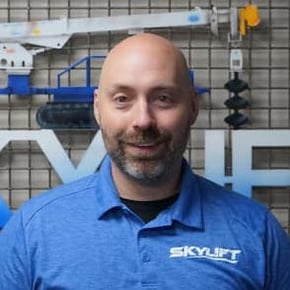 Nick Gordon
Nick Gordon joined Skylift in 2021 with 12 years of experience in the industrial sector. He oversees all aspects of the sales process, as well as marketing and social media content.