In the world of utility and construction, safety, efficiency, and innovation go hand in hand. Throughout its 25-year history, Skylift has taken pride in being at the forefront of technological advancements that enhance the capabilities and safety of our equipment. We also strive to maintain a customer-centric approach, valuing the feedback of our loyal customers and designing machines to meet emerging market needs.
This is why Skylift introduced its latest groundbreaking innovation, the MD 6000R digger derrick, which features fully radial outriggers to provide unmatched stability and flexibility.
Just like its predecessor, the MD 6000, the new machine allows line crews to work at greater capacities and heights when installing heavier poles, safely and efficiently. Both pieces of equipment are the lowest-standing machines in the industry, offering the ability to fit in challenging spaces, such as under carports and roof eaves.
The MD 6000R's innovation lies in meeting customer needs for a fully radial machine. It also offers additional features to enhance safety and efficiency in any utility pole location, from tight backyards to off-road terrain.
Fully Radial Outriggers
The MD 6000R's fully radial outriggers provide unmatched stability and flexibility, allowing operators to work confidently in a variety of terrains. Individually controlled outriggers adapt to any situation, whether it's uneven ground or tight spaces, to ensure a secure foundation for your operations. Independent control means each outrigger can be positioned as needed to avoid obstructions.
Fully Automatic Auger Release
The MD 6000R also features a fully automatic auger release system to increase ease and efficiency by streamlining operation and reducing the workload placed on operators.
5-Second Boom Enable
Enabling the boom on the original MD 6000 required operators to hold an extra switch, which could be cumbersome and tiring. The MD 6000R offers a game-changing 5-second boom enable feature. This means that linemen no longer need to hold an extra switch continuously, enhancing operator comfort and reducing the risk of fatigue-related errors.
Complete Remote Capabilities
Whereas the traditional MD6000 had all controls on the machine, operators are able to operate the MD 6000R's outriggers, auger release, and track extend and retract all from the remote. This results in quicker setup and removes potential pinch points when deploying the outrigger, since operators do not have to touch them directly.
Notification Light
To further enhance safety, the MD 6000R features a notification light on the remote control for the 5-second boom enable switch. This light serves as a visual indicator, ensuring that operators are aware of the boom's status, to prevent accidental activation and guarantee workers' well-being.
Machine Specifications
As with all of Skylift's industry-leading specialty backyard easement machines, the MD 6000R is backed by our 24/7 tech support, is built to last, and is easy to maintain. It offers the following features and specifications:
Weight: 12,800 lbs.
Length: 20' 2"
Height: 7' 8"
Width: 35" closed; 51" open
Tracks: 90" rubber
Winch: 6,000 lbs.
Sheave Height: 40'/48'
Side Reach: 35'
Digging Radius: 24'
Interested in learning more about the MD 6000R or other Skylift units? Contact us today or request a quote.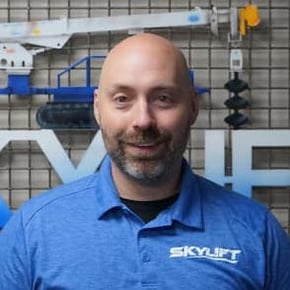 Nick Gordon
Nick Gordon joined Skylift in 2021 with 12 years of experience in the industrial sector. He oversees all aspects of the sales process, as well as marketing and social media content.