When it comes to service and machine maintenance, Skylift's line of easement specialty equipment is built to last, easy to maintain and universal to service, should repairs be needed.
Our technical service line is available for troubleshooting in the field, while our nationwide network of distributors is on standby to meet repair needs. Moreover, because our easement machines feature a proven hydraulic system operation, repairs can be performed by any service center or mechanic with standard industry knowledge.
Skylift equipment is built to last – in fact, the first machine built by Skylift in 2000 is still in the field – and most repairs can be avoided with regular machine maintenance.
Important Machine Maintenance Practices
The first step of easement machine maintenance is to ensure proper operation. Skylift provides its customers with everything needed to get up and running:
Hydraulic and electrical schematics, as well as operation manuals that cover important dos and don'ts, plus information on how to use, maintain and repair easement machines.
Complimentary first-time training, so your crews know the nuances of each machine.
Lifetime warranty on all structural components fabricated by Skylift – if it has a failed weld and wasn't misused, we'll replace it.
One important item for successful preventive maintenance is properly greasing the machine fittings, particularly the outriggers, bucket arm and pivot points for the boom – especially if the machine is operated in cold weather. Following the advice, "If you need to put your back into it, it needs to be greased," we recommend greasing fittings a minimum of every three times the machine goes out in the field.
Another key machine maintenance best practice is ensuring all operators receive proper training in order to prevent damage to the machine. First, operators should watch Skylift's refresher training video, then walk around the machine and read warning labels to ensure they are up to speed.
Regarding specific machine maintenance service intervals, Skylift recommends the following:
Daily Maintenance
Check the hydraulic oil level, hydraulic hoses and fittings, engine oil level and track tensioner (if equipped)
Clean and inspect the engine air filter
Grease boom fittings and outrigger fittings, sockets and pins
Inspect winch line hook and latch, winch line and auger strap
Ensure bolts are tight on rotation bearing, tie down hooks and wheel lug nuts
Weekly Maintenance
Grease slider bar contact area on track undercarriage slide bars
Check nylon sheaves for sharp edges and cuts
Maintenance Every Three Months
Grease main boom lift cylinder fittings with an EP grease
Check torque on rotation bearing bolts; torque to 159 ft.-lbs.
Grease rotation bearing with an EP grease
Maintenance Every Six Months
Replace hydraulic return filter
Annual Maintenance
Drain and replace the hydraulic oil
Troubleshooting in the Field
Despite proper machine maintenance, occasional issues can arise. Skylift's technical service line is available for troubleshooting while customers are in the field. In addition, schematics can be sent via email to go over during a field call.
In the case of the hydraulic overload protection (HOP) reset feature, a machine ceases operation to ensure the line is not overloaded. While this isn't a maintenance issue, it happens so infrequently that crews are often caught off guard and call for a refresher of the reset procedure.
Skylift recommends that contractors and municipalities that have different crews using the equipment each day try to minimize this turnover. If, for example, the same crew stays on a machine for a week before passing it to another crew, there's a greater likelihood that the team is properly trained and knows the nuances of the machine.
Roughly 70 percent of the service calls that Skylift receives are troubleshooting calls from the field, and all of these are able to be resolved over the phone at that moment.
Ease of Service
While anyone with a mechanical or hydraulic machine center can service Skylift easement machines, it's worthwhile to consider the expertise of the company's distributor network. These facilities, located throughout the U.S., have the necessary service capabilities for diagnostics, repairs and annual inspections, and are experts in the electric utility industry.
For contractors who work in multiple regions of the country, our distributor network means nationwide representation for renting or purchasing equipment. If customers are near the Skylift Equipment Service Center, the following services can be performed on-site:
OEM parts repair
Annual inspections
Dielectric recertifications
Welding
Fabrication
CNC machining
Expedited repairs
Because Skylift machines are fully proportional hydraulic, the majority of customers are able to resolve issues instantly so that they can continue operating them in the field. In severe cases, they bring equipment into our service center or to a distributor.
Some competitors use electronics over hydraulics, making their machines more prone to failure that can't easily be fixed in the field. Rather than tried-and-true hydraulic controls, when electronics run the whole machine, a computer is needed to diagnose a problem. Meanwhile, if electronic components are down, the machine isn't operational. Skylift's hydraulic systems withstand environments that are damp, cold or very warm better than electronics.
The one exception is our MD6000 E-Series hybrid green machine. For issues other than the battery system, repairs are the same as standard Skylift machines. If customers need to check battery voltage or if the system is showing a code, this can be checked using a cell phone. Only the battery system requires specialty repair, however, if the battery system is not operational, the machine can still be used in diesel mode.
Interested in learning more or have any questions about easement machine maintenance and servicing? Contact us today.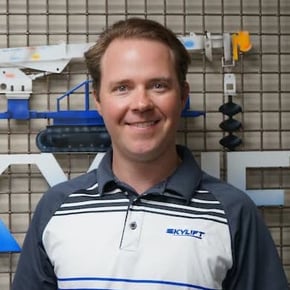 Andrew Jarmoszuk
Andrew Jarmoszuk joined Skylift in 2010 with 16 years of experience in heavy machinery manufacturing. In his current role, which he has held since 2013, he coordinates with distributors, salesmen and end users in all stages of the sales process and thereafter, in addition to overseeing all marketing projects.