The worst situation for a crew in a backyard is when unreliable easement machines that aren't easy to maintain or fix, cause unwanted downtime and result in a loss of time and money.
Thankfully, many of today's backyard easement machines are durable enough to keep your crew on track and keep your job moving with efficiency.
An easement machine makes it possible to access tight alleyways, gateways and backyards so that your crew can get to work. The functionality and makeup of these machines provide a number of customer benefits that ultimately make investing in backyard easement machines a smart decision.
However, not all easement machines are the same when it comes to durability.
What Makes Backyard Easement Machines More Durable?
Typically, only one backyard easement machine is deployed at once to handle a job. That means the machine your crew is using must be reliable.
At the core of an easement machine's durability is a full-pressure hydraulic system that allows for easier repair if something should go wrong. If your easement machine runs on an electric over hydraulic system, troubleshooting is costlier and more time-consuming. In many cases, you'll need to wait for electrical equipment to be delivered to the site in order to fix the problem.
Hydraulic systems also aren't affected by climate, so even on your rainiest or snowiest days, you don't run the risk of your easement machine short-circuiting.
In other words, backyard easement machines with full-pressure hydraulic systems are much more durable and long-lasting.
The 2 Main Customer Benefits of Durable Easement Machines
How will durable backyard easement machines help you on your next job – and on jobs in the future? We'll break it down for you.
1. More Uptime
If an issue should arise with your hydraulic-powered backyard easement machine, the chance of you fixing it right there on the spot is much greater than if you were working with a machine that runs on an electric over hydraulic system. You won't need to disassemble the entire machine or contact a special technician to come out and assist with computer and electrical systems. You also won't be stuck trying to figure out which parts are causing the problem. Crew members with a basic understanding of the mechanics should be able to do a timely repair in real-time, so you can spend more time on the job at hand.
2. More Value for a Longer Period of Time
The right backyard easement machines are designed and built with serviceability in mind at all times. This means complete ease-of-access to engine compartments, filters, hoses, etc., so that issues can be found and resolved quickly. These machines are built for everyday use in different applications, so you won't come across small parts that will break and be difficult to replace. With such simplicity, sustainability and quality in mind, your crew will get a greater ROI on these machines.
Why Skylift Is the Answer When You're Looking for Durability, Functionality & Customer Service
At Skylift, we design and manufacture the most durable, long-lasting backyard easement machines on the market. It's our philosophy to not only create more durable machines, but machines that have multiple uses and more capabilities. Most crew members will be able to operate a Skylift backyard easement machine and fix one.
Because we understand how important it is to keep things moving and machines up and running, our field technicians, who have a 99% satisfaction rating, can be contacted at any time to walk through diagnostic repairs.
We take great pride in sourcing our steel only from the United States and Canada, which leads to the strength and reliability of what we build in-house. We also carry a large inventory of replacement parts, so they're always available when you need them. Finally, our rigorous quality testing is the last step in ensuring you're equipped with a long-lasting machine.
Our philosophy is embodied in our new Skylift MD6000 E-Series machine, which is the first battery-powered diesel hybrid easement machine ever built.
Contact us today to learn more about how our backyard easement machines can assist you on your next project.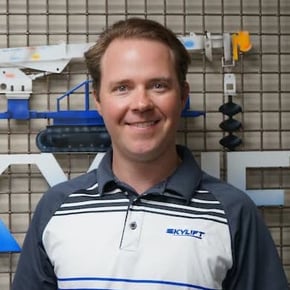 Andrew Jarmoszuk
Andrew Jarmoszuk joined Skylift in 2010 with 16 years of experience in heavy machinery manufacturing. In his current role, which he has held since 2013, he coordinates with distributors, salesmen and end users in all stages of the sales process and thereafter, in addition to overseeing all marketing projects.