If there's one thing fleet managers and crew leads can't tolerate, it's downtime. Downtime leads to lost revenue and makes you and your crew feel frustrated and under-equipped. To avoid downtime and ensure your crews are fully operational, you must outfit them with the right equipment at the right time for your backyard utility projects.
In order to accomplish this, you need a partner that understands the challenges of working in tight spaces and has the right mix of dependable, cost-effective equipment and expertise to keep your crews happy and productive.
But how can you be sure that the backyard easement machines you invest in will get the job done, time and time again, while being easy to maintain, and last forever? This is a common question that we discuss often. In this blog, we'll take a look at some of the most important factors to consider when vetting a backyard easement equipment provider.
What You Should Be Thinking About Prior to Purchasing Easement Machines
Backyard utility machines aren't all equal. You want to choose a machine that is tried and true and will keep your crews operating effectively and efficiently.
When choosing a backyard easement machine, consider the following:
The machine specifications and configurations
What customizable machine options are available
Does the provider have a proven track record of success?
The total cost of ownership of a machine
Parts availability
1. A Broad Range of Machine Specifications and Configurations
Each application calls for different requirements. You want a manufacturer that offers different models of backyard easement machines (e.g., digger derricks, arborist machines, material handlers) in numerous unit configurations and mounting locations tailored to meet your needs, whether that includes utility pole and transformer installations, traffic signal maintenance, tree trimming or another application.
When inquiring about a machine, consider asking the following:
How deep can it dig?
How fast can it dig?
How heavy a pole can it set?
Skylift powers the industry with several different models of utility vehicles available in a variety of sizes, shapes and configurations — each one designed specifically for accessing tight alleyways, gates and rear property no matter the terrain, power source needed or size of the work area.
2. Customizable Machines
All Skylift easement machines come with an out-of-the-box configuration with a ton of add-on options, including but not limited to:
Hydraulic pole guide (manual tilt)
Hydraulic pole guide (hydraulic tilt)
Emergency lowering
Boom overstow switch
Engine block heater
A backyard easement machine is a significant investment and will be in a fleet for many years; why not purchase exactly what you need and want? You need an easement machine manufacturer with the engineering expertise and experience to handle designing and building a custom machine tailored to your needs.
3. A Proven Track Record of Success
Ineffective and unreliable equipment results in downtime. Equipment downtime isn't just frustrating, it's expensive. The cost of downtime goes beyond just the cost of the machine, though.
Equipment downtime causes a ripple effect, hindering other critical functions and limiting profitability. This includes losses that result from personnel being paid but unable to perform their duties.
Because there's typically no backup for these machines on-site, you need them to work properly. It's important to choose a machine that has a proven track record for:
Reliability
Durability
Performance
Choose a manufacturer that tests its equipment to ensure quality. Each machine should be tested thoroughly before an order is fulfilled. Skylift's machines are built to last, designed with versatility and industry-leading durability. Every machine that comes off the line is tried and tested and assembled in the United States.
4. The Total Cost of Ownership of a Machine
With so many backyard easement machines available, it can be tempting to go with the lowest-cost option. However, don't let the initial cost fool you. Sometimes, a less expensive machine will end up costing you quite a bit more, especially if that machine is constantly out of commission or broken. After all, production interruptions lead to lost revenue and should be avoided whenever possible.
Skylift's backyard easement machines are designed to reduce downtime by ensuring continuous, reliable performance. In fact, a number of our machines have been in the field for over 20 years and are still working as good as new.
These machines are also easy to maintain, and we provide on-site training for all equipment that covers maintenance safety, unit operation, preventive maintenance, unit inspection, minor troubleshooting and repairs. So, when you're determining which backyard easement machine is right for your business, it's important to consider more than just the price.
A total cost of ownership (TCO) comparison enables you to make a more accurate purchasing decision, and in the long run, saves you money. The TCO includes the purchase price of a particular asset, plus the costs of operation over the asset's lifetime. The asset with the lower TCO has a better value over the asset's lifespan.
5. Parts Availability
When you're considering a backyard utility machine for your application, you'll want to understand how quickly you can get parts and service. Understanding your manufacturer's lead time can save you money in the long run.
Skylift understands your frustrations and how important it is to have the right tools for the job to keep your crews operating effectively and efficiently, which is why we build industry-leading solutions for specialty backyard utility projects. We boast a fully-stocked parts department with just-in-time shipping to keep your projects up and running.
Providing Certainty in Your Easement Machine Purchase
At Skylift, we build industry-leading solutions for specialty backyard utility projects. Our machines are a top choice among crews in the field, and we offer consultative support to determine what machine specifications you need. Each Skylift team member has an average of 15 years of technical expertise and experience solving the problems you're facing.
If you're interested in learning more or have any questions about backyard easement machines, feel free to contact us or request a quote today.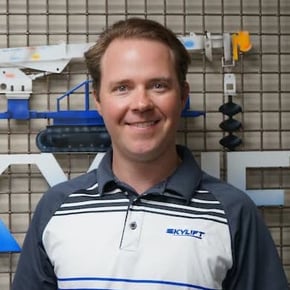 Andrew Jarmoszuk
Andrew Jarmoszuk joined Skylift in 2010 with 16 years of experience in heavy machinery manufacturing. In his current role, which he has held since 2013, he coordinates with distributors, salesmen and end users in all stages of the sales process and thereafter, in addition to overseeing all marketing projects.