If you're a member of the executive team at a large electric utility company, you're likely responsible for ensuring safer on-the-job experiences for crews and helping your company meet ever-increasing sustainability goals.
You need a partner that knows how important it is to have the right tools for the job, not only to keep your crews operating effectively and efficiently, but also so you meet the sustainability requirements for your company.
In this blog, we'll discuss what sustainability means in relation to off-road, backyard utility equipment and the benefits that sustainability offers.
The Shift to Clean Energy
Over the past few years, some of the country's largest utility companies, including Dominion and Duke, have committed to eliminating their carbon pollution by 2050. In fact, many states now face mandates to move to 100% renewable energy or cut carbon pollution to zero by 2050.
The industry is moving in the direction to reduce air pollution, tackle climate change and improve public health and well-being.
According to the Renewables in Cities 2021 Global Status Report, more than one billion people — about 25% of the urban population — live in a city with a renewable energy target and/or policy.
As electric companies continue to transition their generating fleets to cleaner fuels, their emissions are going down significantly. According to the Edison Electric Institute (EEI), carbon emissions from the electric power sector are at their lowest level since 1978 — and continue to fall.
This trend is expected to continue, as many EEI member companies are committed to "continuing to reduce carbon emissions in our sector and to helping other sectors — particularly the transportation and industrial sectors — transition to clean, efficient electric energy."
Today, 40% of all U.S. power generation comes from clean, carbon-free sources, including nuclear energy, hydropower, wind and solar energy.
The Rise of Green Utility Equipment
Most companies have targeted their utility fleet with goals driving towards hybrids or all electric to support zero carbon emissions footprint.
Skylift equipment, part of an electric utility's off-road fleet, has developed the industry's first-ever electric backyard machine that meets these zero emissions goals. The Skylift Mini-Derrick 6000 E-Series offers the same durable performance and skill set as its diesel predecessor (MD600) but has the option to run all electric.
Benefits That Sustainability Offers
The E-Series was designed to deliver safety, sustainability, convenience, efficiency and power.
No Loss in Power or Capabilities: Switch to diesel mode to charge the battery for uninterrupted operation, and use the nearly silent electric mode to extend work hours in residential areas. You can also use Skylift's app to easily monitor battery life and more.
Less Noise for Increased Jobsite Safety: Improve communication between workers, and eliminate disturbances caused by noise pollution. The decrease in noise pollution eliminates disturbances to neighborhoods, homeowners and wildlife.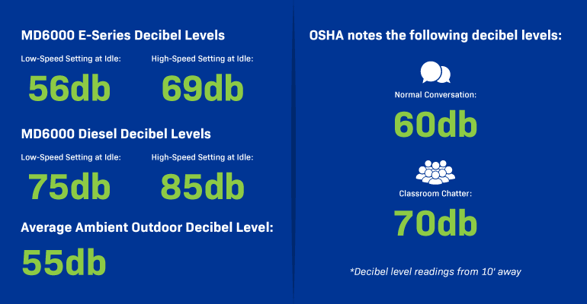 Zero Carbon Emissions: Produce zero emissions in electric mode to decrease your carbon footprint and diesel usage.
Small Footprint: This is your go-to machine for tight spaces — with its 35" retracted track width, it's small enough to fit through a standard gate.
Large Lift Capacity: The MD6000 E-Series has the largest lift capacity of any rear easement machine.
Seamless Parts, Service & Operation: The E-Series operates identically to its diesel counterpart, which simplifies training, as well as technical and parts service.
Extended Warranties: 5-year warranty on the battery system, 3-year warranty on the generator controller, 2-year warranty on most electrical components and a 24-month warranty on the generator/motor.
Meet Your Sustainability Goals
Skylift's new line of E-Series machines guarantee lower cost-of-ownership and safer on-the-job experiences for crews, and they help companies meet ever-increasing sustainability goals. All of these benefits may lead to the creation of more sustainable machines.
Our machines are a top choice among crews in the field, and we offer consultative support to determine what machine specifications you need. Each Skylift team member has an average of 15 years of technical expertise and experience solving the problems you're facing.
If you're interested in learning more about our sustainability efforts or need a machine with a reduced carbon footprint to help meet sustainability goals, please contact us or request a quote today.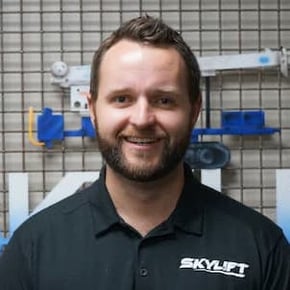 DJ Simonovich
DJ Simonovich has been with Skylift for more than six years and is responsible for all engineering-related objectives. He was involved in creating the MD 6000 E-Series, the first battery-powered hybrid backyard machine to enter the market, and won the Diesel Progress Magazine Hybrid Application of the Year award, as well as being named a finalist for the Lift & Access Magazine LLEAP Award in the Material Handler Category.