Whether you're a fleet manager, crew lead or member of your company's executive team, we know that one of your main goals is to eliminate the risk of equipment downtime. As one of the greatest hindrances to a project, downtime can cause revenue loss and leave your crew feeling stressed and under-equipped.
That's why you need a partner that can offer long-term reliability, limited downtime and prompt assistance with maintenance during the inevitable machine repair.
In this blog, we'll talk about how to avoid equipment downtime by adhering to regular preventive machine maintenance schedules that can save your equipment from future damage and costly repairs. In addition, we'll cover telltale signs your equipment needs attention, and what to do when you need a professional repair.
How Often Should Easement Equipment Be Maintained?
Routine and preventative maintenance is key. While it's important to abide by the safety and maintenance schedule put in place by your company, here are some general recommendations that will greatly decrease the chances of your equipment having future issues:
Daily Maintenance: It's a best practice to walk around your machine prior to using it. Is any fluid leaking underneath the equipment? Is the winch cable frayed or are there signs of broken torque stripes. It's a good idea to visually inspect most items listed in our 35-point annual inspection checklist every day.
In addition to a visual and safety inspection, also be sure to grease all components and check on key factors like hydraulic fluid levels, engine oil status, grease levels, etc.
Weekly Maintenance: This includes re-greasing the equipment a minimum of every three times it's used, as well as greasing the rotation bearing.

Bi-Yearly Maintenance: Line items 2, 4, 8, 21, 23 and 27 in our 35-point inspection checklist should be inspected or serviced every six months. It's always okay to inspect or service any of these items more frequently, so follow your company's maintenance schedules if they call for more regular maintenance. These line items include:

Checking all hydraulic lines and fittings

Checking the deflection on the rotation gear

Checking the rotation bearing bolts for proper torque

Checking the condition and tension of tracks (tension should be adjusted every six months, but the condition of the tracks should be inspected every time you take the machine out)

Checking all electrical wiring and connections

Performing a dielectric test for recertification
It's also important to remember that while some maintenance is calendar-based, other maintenance should be based on the number of hours the equipment is being used. Overused equipment that hasn't regularly been maintained is a recipe for downtime.
What Else Should Be Checked Each Time Easement Equipment Goes in for Maintenance?
We encourage you to review our 35-point inspection checklist.
It includes the items that should be checked each time one of our easement machines goes in for maintenance, including:
Grease on all components

Fluid and hydraulic levels

Torque stripe status around all bolts

Machine leakage

Boom inspection
Are There Additional Resources That Can Help With Easement Equipment Maintenance?
The more you adhere to maintenance best practices, the longer your equipment will last. To further support your maintenance efforts, we encourage you to:
Familiarize yourself and your team with all machine warning labels so you can easily identify what equipment functions may or may not be normal.

Review the Skylift training video below.

What Are Some of the Signs That Easement Equipment Needs to Be Maintained?
If your equipment malfunctions, it's important to address the issue immediately to prevent further damage. When a machine needs to be maintained, there are usually clear and specific indicators that maintenance is required.
Some common indicators include:
The remote is no longer functioning

The boom is stuck in the air

There's no power

The hydraulics don't work

Various equipment functions operate intermittently

Attachments are not easy to install
When Should You Contact the Skylift Technical Team Versus Handling a Maintenance Issue on Your Own?
Skylift technical support consultants are available to help night or day when the inevitable repair is needed. You can reach the Skylift Equipment Service Center by calling 440-960-2100.
When preventative maintenance isn't enough and an issue arises, we urge your mechanic, road tech or service facility to call Skylift's technical support line first. Our team will quickly help identify the service issue and provide the necessary next steps in the maintenance process. Our in-house service technicians will work to prevent downtime and ensure the equipment is back out in the field as soon as possible.
Need more information? We encourage you to reach out with any general questions you may have about easement machine maintenance – and to learn more about other key easement machine considerations and new sustainable solutions.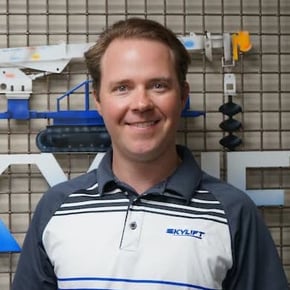 Andrew Jarmoszuk
Andrew Jarmoszuk joined Skylift in 2010 with 16 years of experience in heavy machinery manufacturing. In his current role, which he has held since 2013, he coordinates with distributors, salesmen and end users in all stages of the sales process and thereafter, in addition to overseeing all marketing projects.